Refresh
My rules when I am in the team car…no sandwich until after 12 and the break is over one minute. I'm pretty stressed right now 😬😳 #Giro105 #hangryMay 12, 2022
See more
Normally the Italian second-division teams, who have been invited by the race organisers, can be relied upon to break away, mostly in a bid to earn TV exposure for their sponsors. However, there has been a notable reluctance so far. Bardiani-CSF have been absent but for the Etna stage. Eolo-Kometa have only sent a couple of riders up so far. There has been talk that both are saving themselves for stages they might try and compete in, rather than doomed breakaways.
Drone Hopper-Androni has shown more commitment, with Mattia Bais and Filippo Tagliani forming the escape on three of the four road stages so far. Bais leads the 'Fuga Pinarello' prize for most kilometres in the break, while Tagliani leads the intermediate sprints classification. Neither, though, is bothering so far today.
The organisers won't be happy with this. Not a good advert for their race. In fact, it's hardly a race at the moment.
If not, we're cruising all the way to Scalea, which would be extraordinary.
We have a climb coming up. The road tilts uphill after around 20km and then gets a bit steeper towards km34. It's only a cat-4 ascent on wide roads so it's nothing too demanding but perhaps could see a breakaway form.
This is just a social ride at the moment.
Another joke. It's Pascal Eenkhoorn and Bauke Mollema. They're laughing their heads off
There's a Drone Hopper-Androni rider in the front row but he's staying there for now.
Lotto Soudal are amassed at the front but they don't have anything to patrol here.
Literally no one wants to break away
An EF rider pings out but gives the camera a smile. Not a serious one.
We're off!
The flag is waved and we are away
We're approaching the end of the neutral now. Let's see who's up for the breakaway today. Bais and Tagliani perhaps…?
A big story from yesterday's stage was Fernando Gaviria's frustration. The Colombian finished second and bounced his front wheel before later bashing his saddle and shouting 'fucking shit bike'.
It seems he was stuck in the 14 sprocket, spinning out, and it seems he'll have some grovelling to do with Colnago and Campagnolo.
Gaviria lashes out at 's**t bike' after Giro d'Italia sprint miss
We're rolling. The riders are on their way to kilometer-zero.
This is the map of today's stage. It hugs the coast and the same road for nearly the whole stage. There's an early climb but it's a pretty simple one. The finish is arrow straight – no corners to negotiate so one big drag strip for the lead-out trains.
Before we get going, now's the time to catch up on yesterday's action. Report, results, photos all in the link below.
Giro d'Italia: Démare wins stage 5
The last of the riders are signing on ahead of the roll-out at 12:35 local time. It's another long neutral zone so the stage will officially get underway at 12:50 – or in just under half an hour's time.
This is the scene in Palmi as we prepare for today's stage.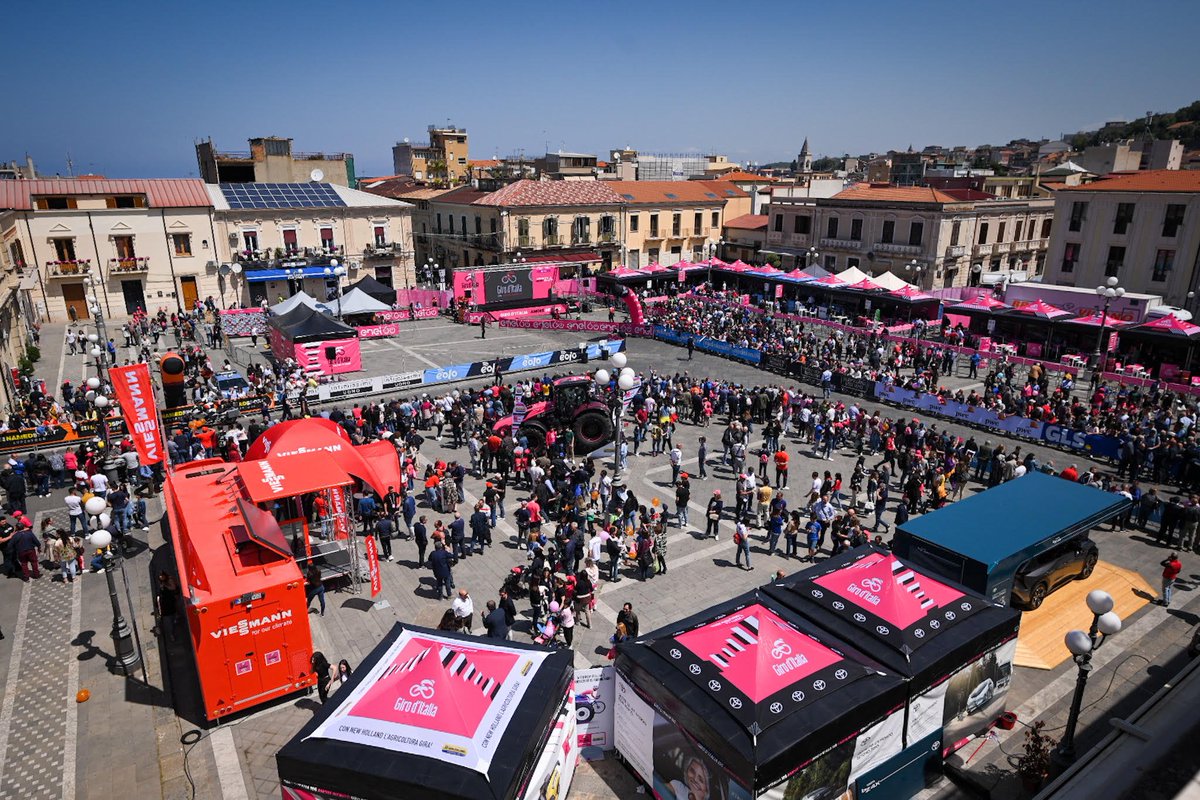 After yesterday's bunch finish in Messina, we have another opportunities for the sprinters on this large flat run up the coast from Palmi to Scalea. It's a straight line north and about as straightforward as they come. There was a question mark over crosswinds but it appears to be a calm day, so we can expect a full bunch sprint, this time including Mark Cavendish and Caleb Ewan, who were ridden out of contention on yesterday's mid-stage climb.
Hello and welcome to Cyclingnews' live coverage of stage 6 of the Giro d'Italia.